"Star Trek VI: The Undiscovered Country"
| | |
| --- | --- |
| Production Number | 6 |
| Stardate | 9521.6 |
| Original Airdate | 06-Dec-1991 |
| Story | Leonard Nimoy and Lawrence Konner & Mark Rosenthal |
| Screenplay | Nicholas Meyer & Denny Martin Flinn |
| Director | Nicholas Meyer |
| MPAA Rating | PG |
| Runtime | 1:53 |
| Gross (US) | $74.9M USD |
| Gross (Worldwide) | $96.9M USD |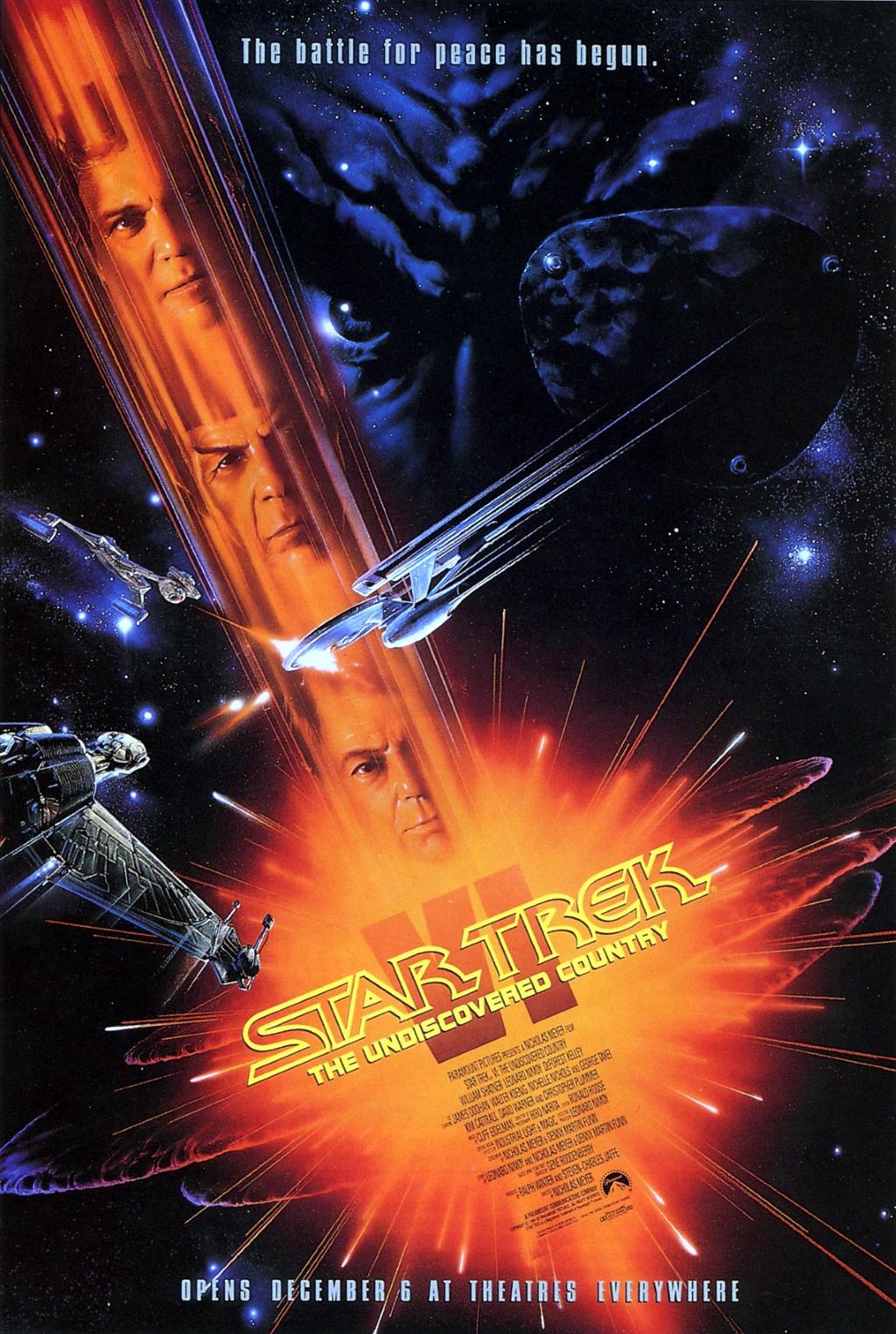 Synopsis
The Klingons seek help to save their world by turning to their former enemy, the Federation. Some, however, do their best to sabotage the peace efforts.
Starring
William Shatner (Captain James T. Kirk)
Leonard Nimoy (Captain Spock)
DeForest Kelley (Dr. Leonard H. McCoy)
James Doohan (Capt. Montgomery Scott)
Walter Koenig (Cmdr. Pavel Chekov)
Nichelle Nichols (Cmdr. Uhura)
George Takei (Capt. Hikaru Sulu)
Guest Cast
Mark Lenard (Ambassador Sarek)
David Warner (Chancellor Gorkon)
Kim Cattrall (Lieutenant Valeris)
Rosana DeSoto (Azetbur)
Christopher Plummer (General Chang)
Grace Lee Whitney (Lt. Cmdr. Janice Rand)
Kurtwood Smith (Federation President)
Brock Peters (Admiral Cartwright)
Paul Rossilli (Brig. Gen. Kerla)
John Schuck (Klington Ambassador)
Iman (Martia)
Leon Russom (Starfleet Commander in Chief)
Michael Dorn (Colonel Worf)
W. Morgan Sheppard (Klingon Commander)
Jeremy Roberts (Lt. Dmitri Valtane)
Michael Bofshever (Excelsior Engineer)
Boris Lee Krutonog (Excelsior Helmsman)
Angelo Tiffe (Excelsior Navigator)
Christian Slater (Excelsior Comm Officer)
Darryl Henriques (Romulan Ambassador Nanclus)
Rene Auberjonois (Colonel West)
Notes
Sulu is now captain of the U.S.S. Excelsior NCC-2000.

The Excelsior scenes were recreated for the Star Trek: Voyager episode "Flashback".
Images
---