"Star Trek V: The Final Frontier"
| | |
| --- | --- |
| Production Number | 5 |
| Stardate | 8454.1 |
| Original Airdate | 09-Jun-1989 |
| Story | William Shatner & Harve Bennett & David Loughery |
| Screenplay | David Loughery |
| Director | William Shatner |
| MPAA Rating | PG |
| Runtime | 1:47 |
| Gross (US) | $52.2M USD |
| Gross (Worldwide) | $70.2M USD |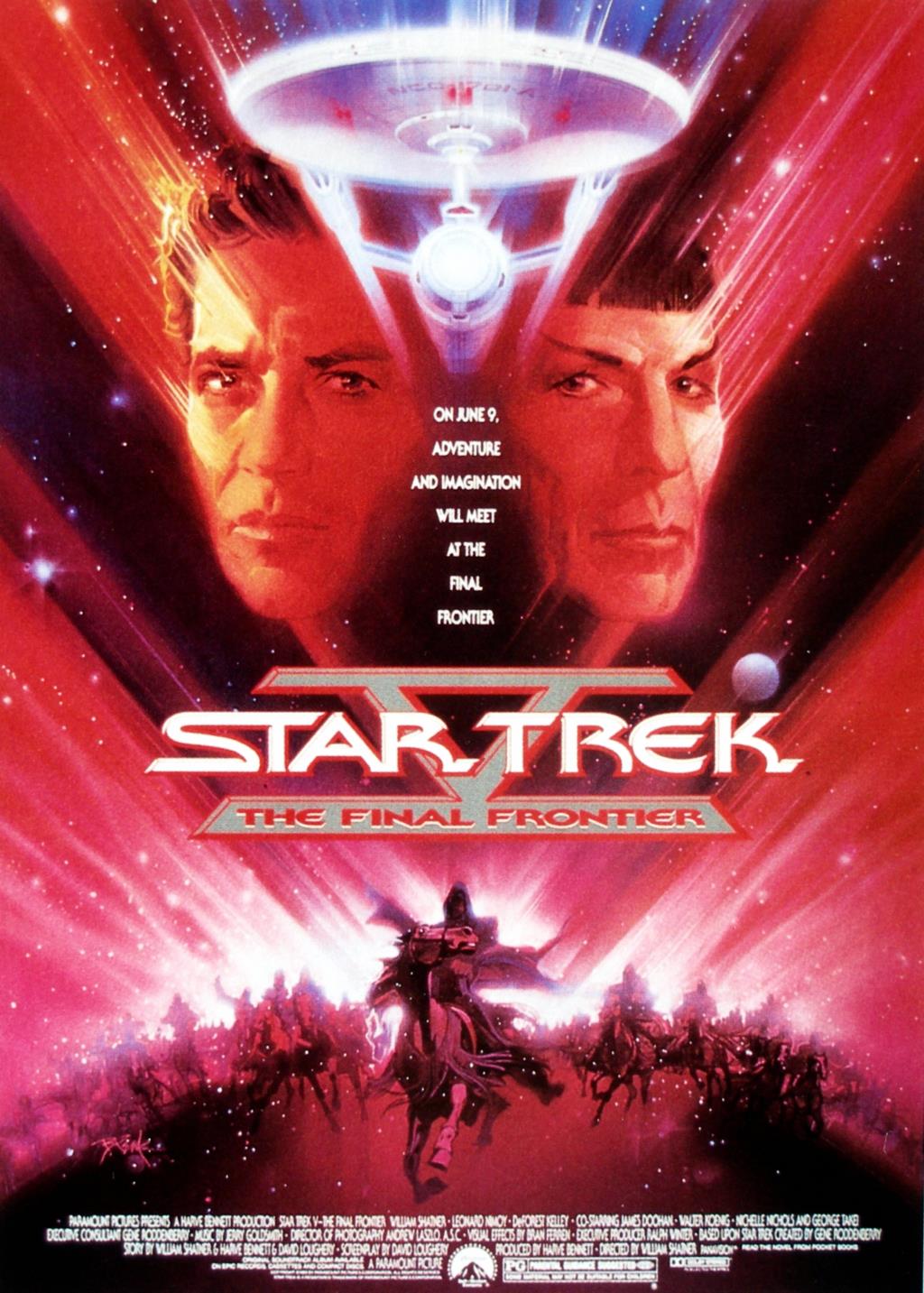 Synopsis
Spock's half-brother Sybok goes on a spiritual quest to find "God" and hijacks the Enterprise to the Great Barrier at the center of the galaxy.
Starring
William Shatner (Captain James T. Kirk)
Leonard Nimoy (Captain Spock)
DeForest Kelley (Dr. Leonard H. McCoy)
James Doohan (Capt. Montgomery Scott)
Walter Koenig (Cmdr. Pavel Chekov)
Nichelle Nichols (Cmdr. Uhura)
George Takei (Cmdr. Hikaru Sulu)
Guest Cast
David Warner (St. John Talbot)
Laurence Luckinbill (Sybok)
Charles Cooper (General Korrd)
Cynthia Gouw (Caithlin Dar)
Todd Bryant (Captain Klaa)
Spice Williams (Vixis)
Rex Holman (J'onn)
George Mordock (God)
Notes
Laurence Luckinbill (Sybok) is married to Lucie Arnaz, daughter of Desi Arnaz and Lucille Ball.

This movie used sets from Star Trek: The Next Generation, including the corridors and Sickbay.

David Warner will go on to play Klingon Chancellor Gorkon in Star Trek VI: The Undiscovered Country.
Images
---