Star Trek
---
"A Piece of the Action"
| | |
| --- | --- |
| Episode Number | 46 (2.17) |
| Production Number | 49 |
| Season | 2 |
| Stardate | 4598.0 |
| Original Airdate | 12-Jan-1968 |
| Story | David P. Harmon |
| Teleplay | David P. Harmon and Gene L. Coon |
| Director | James Komack |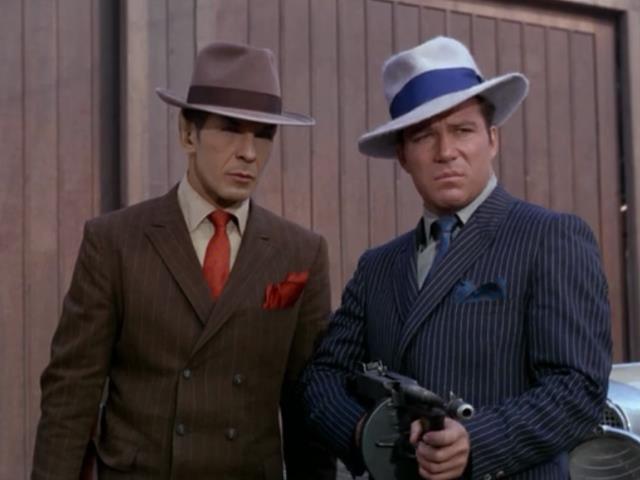 Synopsis
Over 100 years ago, before the Federation directive of non-interference, the U.S.S. Horizon visited the planet Iotia and reported its inhabitants as being extremely bright and imitative humanoids. The Enterprise has been ordered to observe the progress of Iotia. Kirk, Spock and McCoy beam down and discover a culture identical to America in the early 20th century, contaminated by a book left behind by the Horizon titled "Chicago Mobs of the Twenties."
Guest Cast
Anthony Caruso (Bela Oxmyx)
Vic Tayback (Jojo Krako)
Lee Delano (Kalo)
James Doohan (Lt. Cmdr. Montgomery Scott)
Nichelle Nichols (Lt. Uhura)
Walter Koenig (Ensign Pavel Chekov)
John Harmon (Boss Tepo)
Sheldon Collins (Tough Kid)
Dyanne Thorne (First Girl)
Sharyn Hillyer (Second Girl)
Buddy Garion (Hood)
Steve Marlo (Zabo)
Notes
This season seems to be filled with planets whose societies are identical to Earth's historical periods.
---