Bully Woolley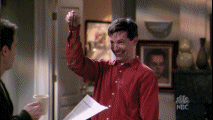 | | | |
| --- | --- | --- |
| Episode # | | 153 (7.14) |
| Season # | | 7 |
| Original Airdate | | 2/3/2005 |
| Writer | | Greg Malins |
| Producers | | Alex Herschlag & Dave Flebotte and James Burrows |
| Director | | James Burrows |
Plot Synopsis
Scott Woolley, under the alias Mr. Osment, hires Grace to design his new restaurant under the condition Grace fires Karen from her design firm. Grace later tells Karen about the incident and they realize the man that hired Grace is really Scott Woolley. Meanwhile, Jack takes Will out for a boys' night to get his mind off of Vince, but ends up ditching Will.
Cast
Eric McCormack (Will Truman)
Debra Messing (Grace Adler)
Sean Hayes (Jack McFarland)
Megan Mullally (Karen Walker)
Shelley Morrison (Rosario Salazar)
Guest Cast
Jeff Goldblum (Scott Woolley)
Patti LuPone (Herself)
Todd Sherry (Fillip)
Trev Broudy (Waiter)
Matthew J. Williamson (Gene)
Notes
Broadway Diva Patti LuPone appears as herself. The Tony award-winning actress is famous for playing Eva Peron in "Evita" on Broadway.
This episode features the music "Running on Empty" by Jackson Browne, "Don't Leave Me This Way" by The Communards, and "Don't Cry For Me Argentina" from Evita. Karen also sings a little bit of "Jesus Loves Me".
Goodies
Credits for this Episode.
Transcript of this Episode.
DivaWig.wav : (JACK) "Now I have hair from Bernadette Peters, Betty Buckley, and Idina Menzel..."
SaggingSpirits.wav : (JACK) "What's wrong with you? Your spirits are sagging lower than your breasteses."
Mourning.wav : (WILL) "Maybe it'd cheer me up. You know, I mean, first me and Vince, then Brad and Jen. America's in mourning."
Briefs.wav : (WILL) "I'm here to do an interview for the premiere issue of Briefs, a magazine for cute gay lawyers."
BeaArthur.wav : (WILL) "You've been trying to track down Patti LuPone ever since you came home..."
RueMcClanahan.wav : (JACK) "I just hope she's not a screamer like that prissy Rue McClanahan."
0714-Selfish-150.wmv: Will is mad at Jack for being selfish.
0714-Tea-150.wmv: Jack invites Will to tea at Barneys.
0714-Revenge-150.wmv: The Revenge of Scott Woolley!
0714-Patti-150.wmv: Patti LuPone interrupts Will and Jack's tea time.
Airdates & Ratings
02/03/2005 08:30 PM: 06.8/10%
04/05/2005 08:00 PM: 04.0/06%
07/21/2005 10:00 PM: 03.2/05%
Related Links