Partners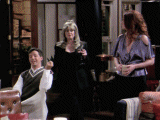 | | | |
| --- | --- | --- |
| Episode # | | 152 (7.13) |
| Season # | | 7 |
| Original Airdate | | 1/13/2005 |
| Writer | | Alex Herschlag |
| Producers | | Alex Herschlag & Dave Flebotte and James Burrows |
| Director | | James Burrows |
Plot Synopsis
Will is up for partner at his law firm. His boss, Margot, invites the candidates for partner to a dinner at her house, where she will ultimately make the final decision. Will, who is worried that Vince will ruin his chances of getting the promotion, is reluctant to bring him as his date. Grace also attends Margot's dinner party under the pretense that Margot has set her up on a blind date. Once there, Grace realizes the blind date is with Margot's husband. Elsewhere, Rosario becomes sick and Karen refuses to believe she is really ill.
Cast
Eric McCormack (Will Truman)
Debra Messing (Grace Adler)
Sean Hayes (Jack McFarland)
Megan Mullally (Karen Walker)
Shelley Morrison (Rosario Salazar)
Guest Cast
Bobby Cannavale (Vince D'Angelo)
Lily Tomlin (Margot)
Buck Henry (Leonard)
Jamie Kaler (Gary)
Rachel Quaintance (Roz)
Jeff Witzke (Glenn)
Erin Hershey Presley (Nicole)
Notes
f/k/a "Cries and Misdemeanors"
Margot ends up promoting Will to partner.
Will and Vince "take a break". (Will is resentful of Vince being lazy and fat on his couch and Vince hates to feel like he needs to be taken care of.)
For some reason this episode was not broadcast in Widescreen on NBC-Digital.
The opening introduction has been shortened from 30 seconds to 8 seconds.
Goodies
Airdates & Ratings
01/13/2005 09:00 PM: 08.8/14%
03/31/2005 08:30 PM: 05.2/08%
07/21/2005 09:30 PM: 03.2/05%
Related Links