Saving Grace, Again (Part 2)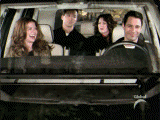 | | | |
| --- | --- | --- |
| Episode # | | 148 (7.09) |
| Season # | | 7 |
| Original Airdate | | 11/18/2004 |
| Writer | | Gail Lerner |
| Producers | | Alex Herschlag & Dave Flebotte and James Burrows |
| Director | | James Burrows |
Plot Synopsis
Will, Grace, Jack and Karen go on a road trip for Grace's get away weekend -- a weekend devoted to not mentioning the name "Leo." Jack and Karen hate the car ride and quickly decide to bail on the plan. Elsewhere, when Jack spots Peter, a "sinfully delicious" man who Jack remembers from a cocoa commercial when he was a kid, he recruits him to be the new face of "Out TV," much to the surprise of Rip Taylor who also wants the gig.
Cast
Eric McCormack (Will Truman)
Debra Messing (Grace Adler)
Sean Hayes (Jack McFarland)
Megan Mullally (Karen Walker)
Guest Cast
Victor Garber (Peter Bovington)
Rip Taylor (Himself)
John Ducey (Jamie)
Sam Pancake (Jimmy)
Deborah Carson (Margaret)
Notes
Karen can relate to Peter because she was the spokeswoman for a Japanese health drink, Atooshi Kodki. She regrets that she did not do another commercial when asked. Japanese people still recognize her.
Goodies
Airdates & Ratings
11/18/2004 08:30 PM: 08.1/12%
03/10/2005 08:30 PM: 06.0/09%
Related Links