Star Trek
---
"The Ultimate Computer"
| | |
| --- | --- |
| Episode Number | 53 (2.24) |
| Production Number | 53 |
| Season | 2 |
| Stardate | 4729.4 |
| Original Airdate | 08-Mar-1968 |
| Story | Laurence N. Wolfe |
| Teleplay | D.C. Fontana |
| Director | John Meredyth Lucas |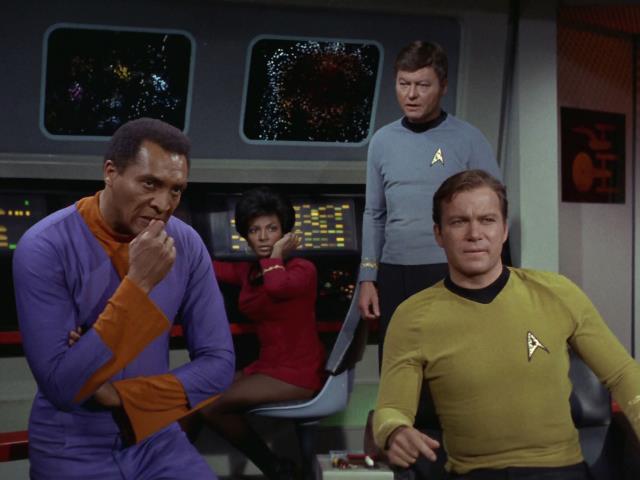 Synopsis
The U.S.S. Enterprise is chosen to be the test ship for the new M-5 multitronic computer system, a computer meant to be able to run a starship without human intervention. Also aboard for the test is Dr. Richard Daystrom, the inventor of the M-5 and an obsessive and unstable individual. Starting a scheduled war games drill, M-5 takes control of the ship and uses the full arsenal of the U.S.S. Enterprise to attack four other Federation starships. When M-5 destroys the U.S.S. Excalibur, Commodore Wesley gives the order to destroy the Enterprise.
Guest Cast
James Doohan (Lt. Cmdr. Montgomery Scott)
William Marshall (Dr. Richard Daystrom)
George Takei (Lt. Hikaru Sulu)
Nichelle Nichols (Lt. Uhura)
Walter Koenig (Ensign Pavel Chekov)
Sean Morgan (Ensign Harper)
Barry Russo (Commodore Robert Wesley)
Notes
The other ships are the U.S.S. Hood (NCC-1703), U.S.S. Potemkin (NCC-1657), U.S.S. Excalibur (NCC-1664) and U.S.S. Lexington (NCC-1709). They are duplicates of the Enterprise model.
---