Sour Balls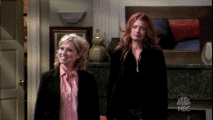 | | | |
| --- | --- | --- |
| Episode # | | 157 (7.18) |
| Season # | | 7 |
| Original Airdate | | 3/17/2005 |
| Writer | | Laura Kightlinger |
| Producers | | Alex Herschlag & Dave Flebotte and James Burrows |
| Director | | James Burrows |
Plot Synopsis
Jack convinces Will that they need a change of scenery and should buy a vacation home in Middleborough, an up-and-coming gay community. After purchasing a new pad, the duo find out that it is not quite the gay getaway they had imagined. Instead, Jack landed the two in a blue collar town just two hours away from the newest gay hotspot. Meanwhile, Ellen asks Grace to babysit her three children, but changes her mind when she finds out Will is out of town.
Cast
Eric McCormack (Will Truman)
Debra Messing (Grace Adler)
Sean Hayes (Jack McFarland)
Megan Mullally (Karen Walker)
Guest Cast
Leigh-Allyn Baker (Ellen)
Fred Sanders (Jerry)
Eric Allan Kramer (Barry)
Charles C. Stevenson Jr (Smitty)
Alison Martin (Gabby)
Robbie Troy (Candy)
Victor Z. Issac (Jason)
Notes
Will and Jack's house is in Middleborough, New York. The new hotspot is Middleborough, New Hampshire.
This is Ellen's first appearance since Season 5's "Women and Children First". Since then, she and Rob have had a third child. One of the children is named Roman, after Debra Messing's baby boy.
The NBC description for this episode stated "Karen befriends Ellen, Grace's friend who is having marital problems, and takes her out on the town to drink her problems away." That was definitely not what happened in this episode. (This seems to be happening quite a bit this season.)
Goodies
Transcript of this Episode.
Property.wav : (KAREN) "Okay, I guess I'll ask the obvious question. Since when are gays allowed to own property?"
TownBird.wav : (JACK) "Oh, please. This place is so gay, the town bird is a condom."
Apology.wav : (GRACE) "There was a situation that happened between us. And as a result of that situation, you were upset. For that, I'm sorry."
Delicious.wav : (KAREN) "Oh-ho. This is so delicious, it's got to be fattening."
0718-Middleborough-150.wmv: Will and Jack are in the wrong Middleborough.
0718-Responsible-150.wmv: Taking care of children is a huge responsibility.
Airdates & Ratings
03/17/2005 08:00 PM: 06.0/10%
04/26/2005 08:00 PM:
08/11/2005 08:30 PM: 03.4/06%
Related Links