There But for the Grace of Grace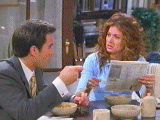 | | | |
| --- | --- | --- |
| Episode # | | 43 (2.21) |
| Season # | | 2 |
| Original Airdate | | 5/9/2000 |
| Writer | | Michelle Bochner Spitz |
| Producers | | David Kohan & Max Mutchnick and James Burrows |
| Director | | James Burrows |
Plot Synopsis
It's a scary glimpse into the future for Will and Grace when they visit their curmudgeonly retired college professor only to discover that he is a bitter old man that has a "Grace" of his own. Meanwhile, Karen must confront her most mortal enemy -- the kitchen -- when Stan requests a homecooked meal for his birthday, and she looks to Jack and Ben to come to her rescue.
Cast
Eric McCormack (Will Truman)
Debra Messing (Grace Adler)
Sean Hayes (Jack McFarland)
Megan Mullally (Karen Walker)
Guest Cast
Gregory Hines (Ben Doucette)
Orson Bean (Joseph Dudley)
Piper Laurie (Sharon Timmers)
Notes
Episode information courtesy of Lindalu!
Gregory Hines is a professional tap dancer and we get to see a bit of him in action in this episode.
Visit episode writer Michelle Spitz's web site at http://www.michellespitz.homestead.com.
A scene was taped with a character that represented Joseph and Sharon's "Jack". The character was recast multiple times and the scene was eventually cut because of troubles with the actor.
Goodies
Airdates & Ratings
05/09/2000 09:00 PM: 09.6/14% #30 — *Highest rated NBC show of the evening
08/24/2000 09:00 PM: 08.2/13% #43
Related Links