"Star Trek: The Motion Picture"
| | |
| --- | --- |
| Production Number | 1 |
| Stardate | 7412.6 |
| Original Airdate | 07-Dec-1979 |
| Story | Alan Dean Foster |
| Screenplay | Harold Livingston |
| Director | Robert Wise |
| MPAA Rating | G |
| Runtime | 2:12 |
| Gross (US) | $39.7M USD |
| Gross (Worldwide) | $139.0M USD |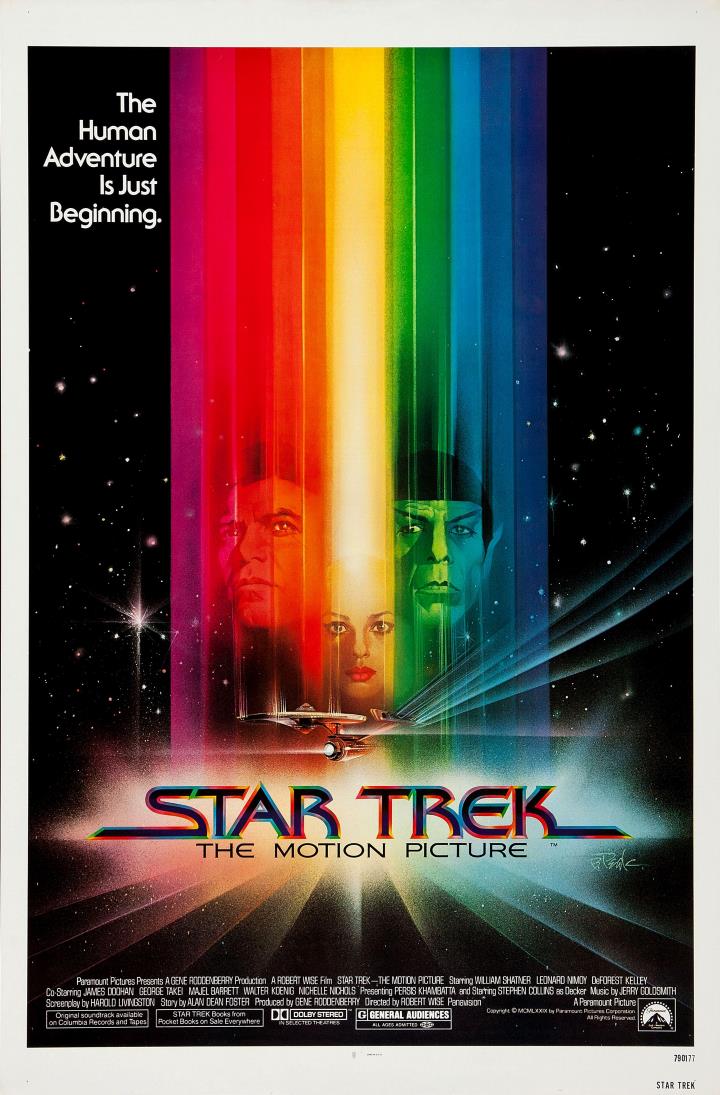 Synopsis
An alien phenomenon of unprecedented size and power is approaching Earth, destroying everything in its path. The only starship in range is the U.S.S. Enterprise — still in drydock undergoing a major refit. As Captain Decker readies his ship and his crew to face this menace, the legendary Admiral James T. Kirk arrives with orders to take command of the Enterprise and intercept the intruder.
Starring
William Shatner (Admiral James T. Kirk)
Leonard Nimoy (Commander Spock)
DeForest Kelley (Dr. Leonard H. McCoy)
James Doohan (Cmdr. Montgomery Scott)
George Takei (Lt. Cmdr. Hikaru Sulu)
Walter Koenig (Lt. Pavel Chekov)
Nichelle Nichols (Lt. Cmdr. Uhura)
Majel Barrett (Dr. Christine Chapel)
Persis Khambatta (Lieutenant Ilia)
Stephen Collins (Captain/Cmdr. Willard Decker)
Guest Cast
Grace Lee Whitney (Chief Janice Rand)
Mark Lenard (Klingon Captain)
David Gautreaux (Commander Branch)
Jon Rashad Kamal (Lt. Commander Sonak)
Marcy Lafferty (Chief DiFalco)
Terrence O'Connor (Chief Ross)
Michael Rougas (Lt. Cleary)
Notes
Recommended by Kirk, Captain Will Decker oversaw the refit of the U.S.S. Enterprise. When Kirk took command, he left Decker on as Executive Officer — with a rank demotion to Commander. He is the son of Matt Decker from the episode "The Doomsday Machine".

Vulcan Lt. Cmdr. Sonak was to be the Enterprise science officer. He was killed in the transporter accident.

This movie was originally to be a relaunch of the Star Trek TV series, code-named Star Trek: Phase II. After the success of Star Wars, Paramount decided to go ahead with a motion picture instead. (In my opinion, the movie suffers from pacing problems due to the fact that they took a 1-hour episode and created a 2-hour movie.)

This movie is marks the first appearance of the ridged-forehead Klingons.

Aspects of Decker and Ilia's background for Star Trek: Phase II were later used for Riker and Troi in The Next Generation series.

A Director's Edition supervised by Robert Wise was released on DVD and widescreen VHS on 11/6/2001. New CGI elements were made for several scenes by Foundation Imaging.
Images
---